We hope you enjoy this e-version of our popular Rocky Mountain Kids magazine. As the comprehensive HealthONE pediatric system of care across Denver and the Rocky Mountain Region, this update from Rocky Mountain Hospital for Children provides helpful tools and useful pediatric health resources.
Fall/Winter 2022
Pediatric sleep specialist offers tips to help your child get some much-needed rest
If you're struggling to get your kid into or out of bed at a decent hour now that school's back in session, you're not alone. Approximately one in three school-age children don't get the nighttime rest they need, according to a recent CDC study.
"Elementary-school age kids need 9 to 12 hours of sleep, while tweens and teens should be sleeping for 8.5 to 9.5 hours every night," says Jessica R. Litwin, MD, a pediatric neurologist and sleep medicine specialist at Rocky Mountain Pediatric Specialists.
A child who regularly doesn't catch enough Z's can have problems focusing during classes. They're also more prone to behavioral problems, mental health issues and health conditions like obesity and diabetes.
"One easy way to help your child be successful is by making sure they're well rested," says Dr. Litwin. She recommends parents take these steps:
Take note of how many hours of sleep your child gets during school breaks.
Gradually move up your child's bedtime by 15 to 30 minutes every five to seven days during the school year until they're going to bed at an hour that gets them the equivalent of their summertime slumber.
Banish all screens from the bedroom one hour before bedtime.
Stick to a consistent bedtime and wake-up time even on the weekends. Sleeping in for more than two hours past the usual school wake-up times on the weekends can mess up a child's internal clock, says Dr. Litwin.

For after-hours questions about your child's health including sleep problems, call First Call for Children at (303) 563-3300 or (877) 647-7440. Nurses are available to answer your questions from 5:00am to 8:00am during weekdays and 24 hours on weekends and holidays. To find a pediatric specialist for your child's specific health needs, call (888) 817-9091.
Find a pediatric specialist by calling (888) 817-9091
---
Walk-in pediatric orthopedic clinics provide fast diagnosis and treatment
If your child sustains an orthopedic injury on the sports field, on the playground or at home, specialists at the Rocky Mountain Pediatric OrthoOne walk-in clinics can provide fast diagnoses and treatments — no appointment necessary.
The clinics are open from 8:30am to 11:30am Monday through Friday at Rocky Mountain Hospital for Children's Professional Plaza, Suite 130, and Sky Ridge Medical Center's Evergreen Building, suite 310.
"We have board-certified pediatric orthopedic doctors and physician assistants on-site who diagnose and treat all types of injuries from sprains and strains to ACL tears and fractures," says Rachel Brewer, MD, a pediatric sports medicine physician who provides care at the clinics.
The walk-in clinics offer comprehensive orthopedic services including X-rays read on-site by pediatric orthopedic specialists and treatments like braces, splints and casts. "We've streamlined the care process so kids don't get shuffled from an emergency department or urgent care to an orthopedist for later treatment," says Dr. Brewer. "We provide all of the care a child needs in one convenient location, which also means a cost savings for families."
Children who need more complex treatments like surgery or physical therapy receive the necessary referrals before leaving a clinic.
Parents with questions can call (303) 861-2663
---
Does your child need a pediatric surgeon?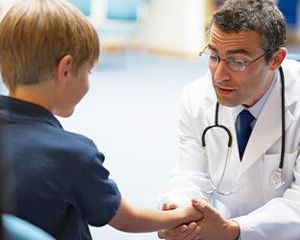 It can be unsettling to find out your child needs surgery. At Rocky Mountain Hospital for Children (RMHC), we make the process easier for your child and you.
The surgeons at Rocky Mountain Pediatric Surgery - Denver have advanced fellowship training in performing all types of procedures on the smallest patients —from planned surgeries to treat congenital abnormalities to emergency appendectomies and more. Our staff provides pediatric surgical care for infants to teens, including minimally invasive surgeries in a dedicated pediatric minimally invasive surgical suite. We're leaders in minimally invasive surgeries for newborns, thoracoscopic lung resections and laparoscopic procedures to treat GERD, as well as other complex surgeries.
Your child undergoes surgery in our advanced operating suites designed just for children. We've equipped these pediatric operating rooms with a video system, a 10-foot touchscreen monitor that surgeons use to view your child's relevant medical information.
Post-surgery, newborns recover in our level IV neonatal intensive care unit (NICU), the largest in the region, while older children recover in our post-anesthesia care unit (PACU).
Choose a pediatric surgeon: (888) 817-9091
---
Rocky Mountain Hospital for Children: Your "Family Favorite Hospital" since 2016
For the sixth consecutive year, readers of Colorado Parent magazine have selected Rocky Mountain Hospital for Children (RMHC) as their Family Favorite Hospital.
Parents from throughout the state vote each year on their favorite hospital, pediatrician, birth center and more. This year marks the sixth year in a row that readers have recognized RMHC as the children's hospital they love most in the state.
"This recognition is truly meaningful to us because it comes from our community and is a direct reflection on families' positive experiences with our renowned pediatric care specialists and services,"
- Maureen Tarrant, president and CEO, RMHC and Presbyterian/St. Luke's Medical Center.
"We're dedicated to providing families with the compassionate care and advanced services they expect from their favorite pediatric hospital in Colorado."
---
Congenital Heart Center taps expertise of our surgeons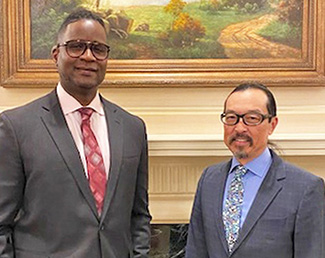 When Immanuel Turner, MD assumed the role of chief of pediatric and adult congenital cardiac surgery at The Congenital Heart Center at Rocky Mountain Hospital for Children (RMCH) earlier this year, he brought the expertise and surgical skills he'd honed while completing dual fellowship training at the University of Michigan Health System in Ann Arbor.
"The University of Michigan Health System is known for having one of the country's best congenital cardiac surgery programs," says Dr. Turner. "And I had the privilege of learning how to perform complex surgeries directly from our pediatric heart surgeon Dr. Richard Ohye."
Dr. Ohye serves as co-director of The Congenital Heart Center at the University Of Michigan C.S. Mott Children's Hospital and is actively involved in national research and clinical trials. He's also currently serving as a senior consultant at RMHC, working with Dr. Turner to assess complex cases and occasionally coming to Denver to assist on surgeries.
"Often, making the decision whether to operate is as important as the surgery itself," says Dr. Turner. "We're able to tap Dr. Ohye's decades of experience to ensure the highest level of surgical care for pediatric patients in Denver." To date, doctors Turner and Ohye have partnered to perform complex heart surgeries on four infants at RMHC — all with positive outcomes. "Infants and their families benefit from having two high-caliber heart surgeons involved in their care."
Learn more about Rocky Mountain Pediatric Heart Surgery
---
Want a second opinion? Contact our clinic
The Pediatric Second Opinion Program offers families an opportunity to have pediatric specialists at Rocky Mountain Hospital for Children (RMHC) review their child's medical records and receive a second opinion about their child's diagnosis and treatment plan.
Specialists provide second opinions for all types of pediatric health conditions, including heart issues, cancer, orthopedic injuries, hernia repairs and more.
Parents can call to access a dedicated physician referral line to setup a second opinion from an RMHC specialist.
Call now for a second opinion: (720) 479-9090
---
In the news
Want to learn more about the innovative, life-saving treatments taking place at Rocky Mountain Hospital for Children (RMHC)? See how RMHC chief of pediatric surgery Steven Rothenberg, MD, and his staff successfully used minimally invasive procedures and magnets to save the life of the smallest baby born with an incomplete esophagus.
The procedure marks the first successful esophageal atresia surgery on a premature infant weighing only 13 ounces (380 grams).
---
If your pediatrician's office is closed and you want to talk with a pediatric nurse right away, call our free First Call for Children: (877) 647-7440.

---
Exclusive pediatric healthcare partner
---
Voted Family Favorite hospital by Colorado Parent magazine readers six years in a row.