Back to Listing
Casey and Amelia
Posted on: 04/03/2019
Casey and Amelia's Story: Cardiac Anomaly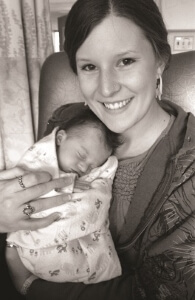 While we were getting ready for Amelia's big day we had to prepare for something even bigger — her prenatally diagnosed cardiac anomaly. Within days of her birth, our little Amelia would require heart surgery. We were blessed to find exactly what we needed at the Center for Maternal Fetal Health at Rocky Mountain Hospital for Children. Everyone there is so genuinely nice and caring — to patients, and the whole family.
We felt completely taken care of both medically and personally. We made lifetime friendships and honestly can't imagine a better group of people to help us all get through such a hard experience.
After six weeks in the neonatal intensive care unit, we were able to take Amelia home.
Posted on: 04/03/2019