Pediatric surgeons in the Rocky Mountain region
Finding out that your child needs surgery can be a scary time. At Rocky Mountain Hospital for Children (RMHC), we provide a family-friendly facility in Denver to make you and your child as comfortable as possible. Together with our physicians and child life specialists, we will educate you and your child about his or her condition and go over all of the options that will be best for your child's recovery.
To learn more about our pediatric surgery program, please call (877) 752-2737.
RMHC is a national leader in pediatric health, and our expert surgeons and innovative programs make us the premier destination for pediatric surgery. From our Level IV Neonatal Intensive Care Unit to the minimally invasive surgical techniques pioneered by our own surgeons, our pediatric surgery team takes a compassionate, family-centered approach to care and emphasizes close collaboration with your child's primary care physician. We believe this team approach leads to the best outcomes for the children we treat.
World-renowned pediatric minimally invasive surgery
RMHC is proud to offer pediatric patients throughout the Rocky Mountain region access to superior minimally invasive surgical procedures. In fact, we have one of the world's premier minimally invasive surgeons, Steve Rothenberg, MD, on staff right here in Denver. Dr. Rothenberg and his colleagues at RMHC are pioneers of minimally invasive surgical techniques that are now being performed around the world.
Minimally invasive surgery can reduce a child's hospital stay, decrease post-surgery pain and virtually eliminate the challenges of large scars as a child grows. The pediatric surgery team at RMHC looks to minimally invasive surgery as the first surgical treatment option for your child.
How does minimally invasive surgery work?
Preparing your child for surgery
We understand that preparing your child for a surgical procedure can be a difficult task. We are dedicated to providing parents and families with resources and advice to help prepare little ones for their big day. Our Child Life Specialists are here to help you and your child. Additionally, they have prepared the following resources:
Schedule a pre-op tour for you, your child and family
After surgery, your child will be transferred to a post-anesthesia care unit (PACU). Here, specially trained pediatric PACU nurses will comfort your child and help him or her recover safely from anesthesia. Our PACU nurses monitor for airway emergencies and oxygen saturation levels in the blood. They also administer fluids and keep your child warm, a vitally important factor for younger patients who have a more difficult time regulating their body temperatures.
What to expect the day of surgery
Our multidisciplinary surgical team
RMHC is home to a highly trained, expert team of pediatric surgeons who work exclusively with infants, children and adolescents. Our surgeons specialize in the surgical management of kids' diseases and conditions, and they understand the unique needs of children.
In addition to our excellent surgeons, our pediatric surgery team includes:
Radiologists
Nurse practitioners
Nurses
Certified medical assistants
A host of other RMHC specialists—including dietitians, child life specialists and occupational and physical therapists—are here to support your child during recovery.
Pediatric anesthesiologists
It is equally important to have a pediatric anesthesiology team who understands the special requirements of newborns, infants, children and teens. This specialized expertise is essential when providing sedation for a procedure and pain management as a child recovers. At our hospital, we only use pediatric anesthesiologists. They develop a personalized approach, depending on your child's needs, and have extensive training in:
General anesthesiology
Pediatric anesthesiology
Pediatric advanced life support
Pediatric critical care
General pediatrics
A specialized, highly advanced pediatric operating room
With board-certified pediatric specialists and the most advanced treatment facilities in the Rocky Mountain region, RMHC is a destination facility for advanced pediatric and neonatal surgical care.
We are dedicated to improving the patient experience in our pediatric operating rooms (ORs) and ensuring the highest level of patient safety through the CollaboratOR. The CollaboratOR is a new, cutting-edge operating room system that makes the transition to the operating room more comfortable and efficient for children and pediatric surgeons.
The CollaboratOR is a 10-foot touchscreen operating room monitor that the operating surgeons can use to host all the relevant information for the surgery. Surgeons can view the patient's medical records, any x-rays or MRIs, labs or blood tests, surgical videos and the video input for minimally invasive endoscopic procedures. This interactive operating system gives RMHC's pediatric surgeons access to all the tools they need to successfully perform your child's surgery. It also promotes increased patient safety by monitoring checklists before, during and after surgery.
In addition to the CollaboratOR, the most advanced, high-definition cameras ever developed for pediatric minimally invasive surgery have been installed into our OR. This will soon include a miniaturized scope smaller than one-fourth of an inch with a 3D endoscopic camera that offers surgeons access to more precise procedures than ever before. All of these features offer larger magnification to increase precision and minimize recovery time.
Learn more about the minimally invasive surgery OR
Pediatric surgeons at RMHC use the CollaboratOR to communicate quickly and efficiently with referring physicians and pediatricians. Surgical information is recorded and transmitted in real-time, so each patient's primary pediatrician is informed about the results of the surgery.
Patient and parent comfort is our priority
Pediatric patients entering the operating room are often anxious about surgery. CollaboratOR serves to comfort and distract children and adolescents through the patient comfort system with a number of entertainment options. Each patient can select a movie or cartoon to watch on a tablet in the waiting room. When the patient is transferred to the operating room, the movie appears on the CollaboratOR screen and comforts the child during pre-op and anesthesia.
The operating system also gives pediatric surgeons the opportunity to provide comfort and reassurance to each patient's family members. Parents and immediate family are given more access to the operating room during surgery and can watch parts of the procedure they're comfortable with. This helps keep parents confident and informed during a stressful time.
Types of pediatric surgery we offer
In addition to our advanced, minimally invasive surgery program, the pediatric surgery team at RMHC performs numerous specialty surgeries, including:
Pediatric hand surgery

Abnormal thumbs (Thumb polydactyly and trigger thumb)
Extra fingers (Polydactyly)
Hand fractures
Juvenile arthritis
Limited movement or stiff joints (Arthrogryposis)
Missing fingers (Symbrachydactyly)
Tendon, nerve and vascular injuries
Upper extremity tumors
Upper extremity neuromuscular problems (Cerebral Palsy)
Webbed fingers (Syndactyly)

Pediatric general surgery
Pediatric neurosurgery
Pediatric plastic surgery

Ear deformities and ear tubes
Craniofacial congenital abnormalities
Keloids and scar repair

Pediatric spine surgery
Fetal and neonatal surgical care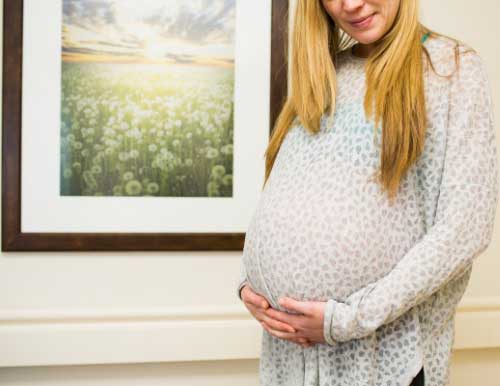 Many congenital abnormalities that need surgical correction can be diagnosed before birth with the use of advanced imaging techniques at our Center for Maternal/Fetal Health. When needed, our specialists use minimally invasive techniques on the first or second day after birth to correct congenital abnormalities.
Our pediatric surgeons work closely with perinatologists and neonatologists to:
Give the best possible clinical outcomes
Limit stress on both parents and baby
Minimize separation between mother and newborn
Help you understand what is going on with your baby every step of the way
Our expert surgeons are able to provide surgical treatment for the following conditions in newborn babies:
Congenital lung lesions, such as cystic adenomatoid malformation
Diaphragmatic hernia
Imperforate anus
Malrotation
Ovarian masses
Sacrococcygeal teratoma
Additionally, we offer fetoscopic surgical options for high-risk pregnancies, including:
Fetal surgery for myelomeningocele for severe spina bifida
Fetoscopic laser photocoagulation for treatment of severe twin-to-twin transfusion syndrome (TTTS)
Fetoscopic bipolar cord coagulation (BCC)
Fetoscopic radiofrequency ablation (RFA)
Midtown Surgery Center
Expanding access to high-quality pediatric surgery
Rocky Mountain Hospital for Children partners with Midtown Surgical Center to help ensure patients receive the very best in quality, cost-effective pediatric outpatient surgical care, at a convenient location just a few blocks from our campus.
Many pediatric surgery specialists who are affiliated with Rocky Mountain Hospital for Children, offer procedures at the Midtown Surgical Center location, and all surgeries for children are performed with specially trained nurses and pediatric anesthesiologists.
The partnership with Rocky Mountain Hospital for Children recognizes Midtown Surgery Center's focus on the quality of care, competency of the surgical support team, and that all equipment and processes are specifically designed for pediatric patients.
Surgery locations
Retrieving location data...