Pediatric congenital heart care in Colorado
When you entrust the health of your child's heart to The Congenital Heart Center at Rocky Mountain Hospital for Children (RMHC), our team of board-certified, specialized physicians is available 24 hours a day, 7 days a week, providing innovative, quality care uniquely designed to treat the congenital heart condition or other cardiac needs of your infant, child or adolescent.
Our specialized care includes surgeons and providers with advanced pediatric training and certified pediatric anesthesiologists who specialize in cardiac care. In fact, all members of our team are experienced in the unique needs of kids and use age-appropriate techniques to communicate with each patient. Everyone from our pre-surgery staff to our inpatient hospital teams, is dedicated to creating a welcoming, child-friendly atmosphere to make each experience with us as warm and comfortable as possible.
Features of The Congenital Heart Center at RMHC include:
Comprehensive, individualized care for pediatric and adult congenital heart patients
Compassionate second-opinion program guided by dedicated pediatric nurse navigator
Highly specialized physicians with advanced pediatric cardiac fellowship training
Only board-certified providers (rather than a physician in training) as attending physicians
The largest Level IV NICU offering the highest level of care in the region
The only Level IV Maternal Care Program and Level IV Neonatal Intensive Care Unit (NICU) under one roof in the Rocky Mountain Region
Experienced Maternal/Fetal Health program with specialized fetal heart program
Whether you have a high-risk pregnancy involving a complex congenital heart condition (for mom or baby), you've learned your teenager has a previously undiagnosed congenital heart abnormality , or you are an adult looking for long-term follow-up for a congenital heart condition, we have the expertise and resources to help.
Your care team
Treatment at The Congenital Heart Center at RMHC is provided by a comprehensive, interdisciplinary cardiac team in which your attending physician is a board-certified provider. Your child's care team may include pediatric cardiologists, pediatric congenital cardiac surgeons, neonatologists and pediatric intensivists. These physicians are supported by specially trained pediatric nurses who have undergone hours of additional training in congenital heart conditions. This training is above and beyond national certifications.
Dedicated nurse navigators
We know congenital heart surgery can be overwhelming for parents and children. That is why we have a dedicated nurse navigator who assists with care coordination, enhances patient experience and connects with comprehensive care teams to support patient families along their journey.
Child life specialists
To support the psychosocial, developmental and neurodevelopmental needs of young patients and their families, we provide child life specialists. Together with dedicated social workers, they help families prepare children and siblings for surgery or a hospital stay, balance hospital and home life, cope with hospital-related stress, encourage children through medical treatments and find resources to help with housing, food, finances and other logistics for planned and unexpected hospital stays
Call our child life team at (720) 754-7717 or watch these videos to help you prepare your family for a surgery.
We treat a full range of heart conditions
The Congenital Heart Center specialists in Denver are trained in treating heart conditions for people of all ages, including those that develop in utero, as infants grow to become children and adolescents and into adulthood.
Congenital heart disease (CHD) is the most common form of birth abnormality in the U.S., affecting about 40,000 births annually, according to the Centers for Disease Control and Prevention. These conditions are present at birth and vary in severity. While some CHD may be diagnosed during pregnancy, some may not be detected until later in life including into adulthood.
Acquired heart disease in children develops after birth and is much less common than in adults. It is usually caused by a disease, virus or bacteria, however the cause of some acquired heart disease may not be known.
Some of the heart conditions we treat include:
Adult congenital heart disease during pregnancy (high-risk pregnancy where mom has heart disease)
ALCAPA (anomalous left coronary artery from pulmonary artery)
AAOCA (anomalous aortic origin of the coronary artery)
Aortic arch anomalies
Arrhythmias in children (also may be called dysrhythmia and can be diagnosed and treated by our pediatric electrophysiology specialists)
Atrial septal defects (and ASD device closures)
Atrioventricular septal defect (also may be called AVSD, atrioventricular canal defect, or AV canal defect)
Balloon valvuloplasty for atrial stenosis
Balloon Valvuloplasty for Pulmonary Stenosis
Bacterial endocarditis
Cardiomyopathy in children
Coarctation of the aorta (and Aortic Coarctation Stents)
Congenital valve defects
Congenitally corrected transposition of the great arteries (also may be called ccTGA or L-TGA)
d-TGA (also may be called Transposition of the Great Arteries)
Double outlet right ventricle (DORV)
Double aortic arch vascular ring
Ebstein's anomaly
Hypoplastic left heart syndrome
Interrupted aortic arch with VSD (also may be called IAA with VSD)
Kawasaki's disease
Marfan's syndrome
Melody valve
Mitral stenosis
Mitral regurgitation
Pacemakers
Partial anomalous pulmonary venous return (PAPVR)
Patent ductus arteriosus (and PDA closure)
Patent foramen ovale (PFO device closures)
Pulmonary hypertension
Pulmonary valve stenosis
Rheumatic heart disease
Sapien valve
Shone syndrome
Single ventricle anomalies
Subaortic stenosis
Tetralogy of Fallot (also may be called TOF)
Tetralogy of Fallot with absent pulmonary valve
Total anomalous pulmonary venous connection (TAPVC)
Total anomalous pulmonary venous drainage (TAPVD)
Transcatheter pulmonary valve replacement
Vascular ring
Ventricular septal defect (and VSD device closure)
Adult congenital heart disease care
As children with CHD reach adulthood, RMHC is at the forefront of innovative and ongoing care. We provide our adult patients with monitoring, treatment and continuity of care, including follow-up care, health and lifestyle counseling, exercise options and family planning. Our multidisciplinary adult congenital heart disease care team includes board-certified specialists from adult congenital cardiology, adult congenital interventional cardiology, adult congenital electrophysiology and adult congenital cardiovascular surgery.
Fetal heart program
The Congenital Heart Center at RMHC is home to one of the only fetal cardiology programs in Colorado. Working in collaboration with our Level IV Maternal Care Program, heart specialists expertly diagnose and treat various heart conditions and disorders in your unborn child. Throughout your pregnancy, you will be closely monitored by this comprehensive team of experts. Your delivery will be carefully planned and supported by maternal fetal medicine specialists, neonatologists, pediatric cardiologists, fetal echocardiography specialists, cardiac intensivists and other clinical specialists. Care is fully integrated with the support of the award-winning labor and delivery unit at Presbyterian/St. Luke's Medical Center on the same campus as our full-service pediatric hospital.
Second opinion program
If you have received a heart condition diagnosis for your child, you may feel overwhelmed. Getting a second opinion can offer the peace of mind that comes from knowing you're doing what's right for your little patient. Another medical opinion helps parents understand a complex diagnosis, adds perspective to your provider's expertise and helps you gain valuable insight into the best treatment options available.
Doctors understand the desire to seek a second opinion and understand this process will help provide the insight you need to make an informed decision for your child. You may seek one at any point in the diagnostic or treatment process. We invite you to contact our pediatric nurse navigator at (720) 479-9090 to help facilitate a second opinion.
Cardiology testing and cardiovascular surgery
Pediatric cardiology diagnostics
Specific noninvasive and pain-free diagnostic tests available through The Congenital Heart Center at RMHC to check for cardiac conditions in children, include electrocardiogram (EKG), exercise stress test, Holter monitoring, electrophysiology studies.
Cardiac cath lab diagnostics and treatments
Our cardiovascular catheterization labs (cardiac cath labs) are staffed by specially trained pediatric cardiology teams and equipped with advanced, child-sized medical equipment. The safety of your child is our top priority, which is why our cardiac cath labs use low-dose radiation imaging tools. Our advanced labs' high-resolution digital imaging equipment provide accurate diagnoses and interventional treatments. Interventional heart cath procedures are minimally invasive treatments that can effectively correct heart abnormalities. Treatments we provide include balloon valvoplasty, balloon angioplasty, stent placement, arrhythmia ablation, septal closures and heart valve placement.
Pediatric cardiovascular surgery
We know pediatric heart surgery can be overwhelming for parents and children. That is why we have gathered experienced, specialized physicians and are home to advanced surgical techniques to provide comprehensive care for a wide spectrum of congenital heart disease in children and premature infants.
Because children have smaller hearts and blood vessels than adults, they need doctors who have advanced pediatric training and use child-size instruments. Children also require special sedation and monitoring because of their size, age and varying abilities to understand what is happening to them. That's exactly what you'll find on our campus — a kid-friendly atmosphere and a medical staff dedicated to making your child's surgical experience as comfortable as possible.
Specialized intensive care
Patients undergoing cardiac treatment may require care in our pediatric intensive care unit (PICU) or neonatal intensive care unit (NICU). Here, we provide 24/7 monitoring and progressive medical technology so your child always receives the extra attention and compassionate care they may require. Our NICU is the largest Level IV NICU in Colorado and is specially equipped should your infant need surgery immediately following delivery. Further, our intensive care team includes nursing specialists who work as part of an interdisciplinary group providing care for patients needing higher support in the form on ECMO (extracorporeal membrane oxygenation) services for complex, life-threatening diagnoses.
Telemedicine
The Congenital Heart Center pediatric telemedicine program connects distant communities to specialized cardiac healthcare for children. We care for patients with suspected cardiology disease and offer a dramatic improvement in the ability to provide immediate access to specialty heart care to children throughout the region. Through this program, our pediatric heart specialists use technology, such as echocardiography or ultrasound of the heart, as an aid in diagnosis and treatment, allowing children to remain in their local communities, when possible.
---
Level IV NICU
We are proud to be home to the largest Level IV NICU in the entire Rocky Mountain region.
Second opinion program
Getting a second opinion can offer the peace of mind that comes from knowing you're doing what's right for your little patient.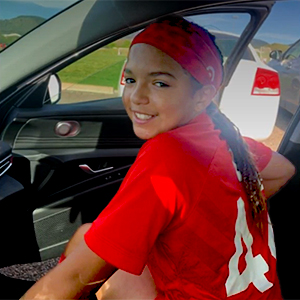 Justice's story
Justice Avila didn't know why she was so exhausted after soccer practice, but it turned to be two holes in her heart.
---