Pediatric allergy treatment in Denver
Rocky Mountain Hospital for Children (RMHC) is committed to offering the highest quality care and treatments for allergies in children throughout the Rocky Mountain region. We proudly partner with our friends at National Jewish Health for Kids, so your child can receive treatment from a multidisciplinary team of pediatric allergy specialists.
To schedule an appointment with our friends at National Jewish Health for your child's allergy treatment, please call (303) 398-1124.
Allergies occur when the immune system overreacts to substances that are not harmful to most people. Millions of American children are affected by seasonal allergies, such as dust and pollen, and food allergies, like strawberries and peanuts. In fact, millions of school days are missed due to children's allergies.
RMHC and National Jewish Health for Kids are dedicated to providing leading-edge allergy treatment and pulmonary care to ensure your child's allergies are well-managed and that he or she can enjoy a happy and safe childhood.
Our collaborative approach to treating kids' allergies
RMHC's partnership with National Jewish Health for Kids offers a comprehensive approach to pediatric allergy treatment. Our program addresses the increasing demand from parents for the treatment of respiratory and immune system disorders.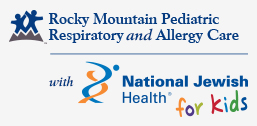 National Jewish Health is the leading respiratory hospital in the nation and is the only facility in the world solely dedicated to the research and treatment of patients with respiratory, cardiac, immune and related disorders. RMHC's specialized care approach, combined with National Jewish Health for Kids unparalleled expertise, means we offer personalized and advanced treatments for allergies in children.
Both the pediatric outpatient clinic and pediatric day program at National Jewish Health for Kids offers children and their families the best treatment programs and facilities in the Rocky Mountain region to help manage allergies and respiratory and immune system conditions.
Additionally, our experts are committed to educating children and parents by providing 24/7 "on-call" pediatric consultation services for HealthONE facilities, patient education and community relations.
Types of allergies in children we treat
No matter your child's respiratory or immune system needs, we have experts to provide comprehensive care.
Diagnosis and treatment clinics include:
Pediatric asthma
Dermatology (skin conditions), such as eczema
Eosinophilic gastrointestinal diseases
Food allergies
Pediatric pulmonary conditions
Immune system conditions
Immunodeficiency
Seasonal allergies
We also target specific allergies in children, including:
Allergic rhinitis
Anaphylaxis
Atopic and contact dermatitis (eczema)
Cat, dog and other animal allergies
Conjunctivitis
Dust mites
Food allergies

Egg allergy diet
Milk allergy diet
Peanut allergy diet
Shellfish allergy diet
Soy allergy diet
Tree nut allergy diet
Wheat allergy diet
Lactose intolerance

Insect bites and stings
Latex
Mold
Poison ivy/poison oak
Pollen
Hives (urticaria)
Allergy resources for parents
At RMHC, we are committed to educating our patients. Parents are encouraged to explore these resources to learn all about their children's allergy conditions.
Allergy treatment locations
Retrieving location data...