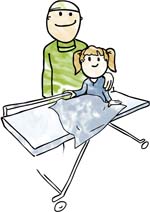 No parent likes to hear that a child needs surgery. While bumps, bruises and skinned knees may come with the territory, surgery often is more frightening and is accompanied by concerns about the child's comfort and recovery. The expert team at Rocky Mountain Hospital for Children understands those concerns and will work closely with you and your child to ensure all your questions are answered and the very best care for your child is provided.
Rocky Mountain Hospital for Children Minimally Invasive Surgery for Kids
Minimally invasive surgery is a term that refers to techniques that reduce the impact of surgery on the body. Minimally invasive surgical techniques can be performed safely on infants weighing as little as three pounds. These types of procedures have many benefits including reduced pain, smaller scars and shortened hospital stays.
Learn more about minimally invasive surgery at Rocky Mountain Hospital for Children>>
Types of Pediatric Surgery at Rocky Mountain Hospital for Children
Pediatric General Surgery
Pediatric Plastic Surgery