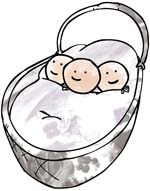 High Risk Pregnancy Care in Denver
At Rocky Mountain Hospital for Children, we know that high-risk pregnancies involve two people-- or more in the case of multiples. Our maternal-fetal medicine, fetal surgery and high-risk pregnancy doctors and teams are committed to the well-being of both the mothers and the babies. We offer treatment for diabetes in pregnancy, preterm labor, premature babies, having twins, triplets, quads or more!
Highly Experienced Physicians. Leading-Edge Technology.
Our internationally recognized maternal-fetal medicine doctors have extensive training and experience on a wide range of procedures such as:
Targeted ultrasound evaluation
Doppler velocity studies
Fetal echocardiography
4-D imaging
Reproductive genetic counseling
Comprehensive fetal evaluations