Rocky Mountain Cleft Palate and Craniofacial Center
Thanks to major strides in the treatment of cleft palate, every child can have a precious first smile.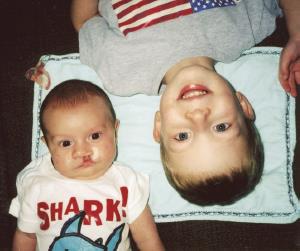 Cleft palate is a treatable birth defect in which the roof of the baby's mouth, or palate, does not normally develop. It may affect one or both sides, and can extend the full length of the child's palate. A cleft lip can range from a small notch to a complete split in the lip that goes all the way to the base of the nose. A child can have one or both of these conditions at birth. Parents of cleft palate babies never take a smile for granted. For those parents and the thousands of babies born each year with this deformity, there is hope, thanks to organizations like Operation Smile, a non-profit organization that helps treat cleft lips and cleft palates in children around the world and specialty centers like the Rocky Mountain Cleft Palate and Craniofacial Center, which helps local families.
"Compassion, respect and communication. These are essential for guiding young patients and their families through the diagnostic and treatment process"
What causes cleft palate?
The exact cause of cleft lips and cleft palates is not completely understood. However, these conditions typically result from abnormal facial development during the first trimester of pregnancy.
Doctors agree that your baby may be more likely to develop a cleft palate if you:
Have a family history of cleft palate
Use certain medications while you're pregnant (ask your doctor about specific medications.)
Use alcohol or illegal drugs during pregnancy
Smoke during pregnancy
Are exposed to radiation or certain infections during pregnancy
Children with cleft lips, cleft palates or other craniofacial issues may have misaligned teeth, an abnormal nose shape or deformed mouth, speech difficulties, recurring ear infections and hearing difficulties, and difficulty eating resulting in a failure to gain weight.
Cleft Palate Treatment
The good news is that treatment for cleft lips and cleft palates has improved greatly in recent years, as has the treatment approach. Most children now can achieve a normal appearance with regular speech and eating abilities.
The Rocky Mountain Cleft Palate and Craniofacial Center brings together a broad array of medical professionals who work together to achieve that goal.
Our Multidisciplinary Team Includes:
pediatricians
plastic surgeons
oral surgeons
orthodontists
dentists
otolaryngologists (ear, nose & throat)
speech pathologists
audiologists
case managers
psychologists
Many of these consultants also donate time to international organizations that help children with cleft lips and cleft palates.
Our specialists examine the patient, share information and together, design a comprehensive treatment plan. This not only assures quality of care, but also provides coordinated, ongoing treatment and reevaluation as appropriate.
Parents are given the same comprehensive report as the treating or referring physicians, so everyone understands the treatment plan. If surgery or multiple surgeries are required, they are typically done when the child is less than a year old. Examinations usually take place in a child and family-friendly environment, usually within a single day.
Patients opting for treatment at the Center are followed throughout the reconstructive process. The child's surgeon and the Center's team develop a long-term plan that is achieved gradually and carefully, through surgeries that are coordinated with all aspects of a patient's treatment throughout the years.
Ear tubes may be necessary if a child's hearing is impaired. The muscles that control pressure in the ears are connected to the palate, so children with cleft palates often need ear tubes that can be placed to help control that pressure since the muscles can't respond as they would normally Placing these ear tubes helps maximize hearing abilities so that it's not a disability for them later in life.
Cleft Palate Treatment Center
The Cleft Palate and Craniofacial Center was founded by Dr. RCA Weatherly White on a philosophy of care that emphasizes sensitivity to the needs of young patients and their families, consistent follow up and clear communication with referring physicians. Dr. Weatherley-White has been recognized nationally for his distinguished work with children who have cleft lips and cleft palates. He was honored with the Operation Smile Lifetime Volunteer Achievement Award for participating in 31 medical missions with the organization.