If you're preparing your toddler or young child for surgery, your family may be looking for ways to reduce stress and prepare for the procedure. Rocky Mountain Hospital for Children (RMHC) is dedicated to relieving you and your child's stress and preparing you for a safe and comfortable surgery experience.
Our team of specialists is board-certified and fellowship-trained to treat pediatric conditions with specially tailored surgical procedures. We work closely with each patient's family to develop an individualized treatment plan and prepare your family for the upcoming procedure.
How can I help my toddler prepare for surgery?
Recognizing what is stressful to your toddler while in the hospital can guide you in preparing them for the surgical experience. Common stressors and fears in the hospital may include the following: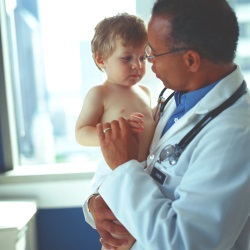 Being left alone
Having to stay in a strange bed or room
Loss of comforts of home, family and belongings
Being in contact with unfamiliar people
Painful procedures
Medical equipment that looks and sounds scary
Feeling helpless
While hospital treatment can be stressful or scary for toddlers, there are many steps your family can take to prepare your child for surgery, including:
Begin preparing your toddler for surgery one or two days before the procedure. Preparation too far in advance can produce more anxiety.
If you have a doctor's kit, engage your child in doctor play to familiarize them with medical equipment.
Read books to your toddler about going to the hospital.
Give very simple explanations and be careful of words you use. For example, say, "The doctor is going to give you special medicine to help you sleep, while they fix your arm." Do not say, "The doctor is going to put you to sleep and operate on your arm." Your child may recognize the phrase "put to sleep" from other circumstances, like the passing of a family pet, and become fearful.
Keep routines from home as consistent as possible when in the hospital. If your toddler is used to a story before bedtime or cartoons in the morning, keep those routines consistent whenever possible.
Give your toddler realistic choices so he or she has some control. For example, let your child decide which familiar items from home he or she wants to bring to the hospital.
If you are staying overnight at the hospital, prepare to stay with your child in their hospital room.
Let the medical staff know your toddler's typical routine along with their likes and dislikes.
It's important to be patient and keep your cool. Toddlers take their cues from you and can become stressed or anxious if they sense these emotions from you.
When possible, before and after surgery, allow your child to choose a play activity for normalcy and to decrease the stress and anxiety related with hospitalization.
Take care of yourself. Simplify your life during this time and do not be afraid to ask for help from family and friends. Remaining positive and calm can help reduce your toddler's anxiety.
Learn more
If you're looking for more information about preparing your toddler for surgery, please contact your Child Life Specialist at 720-754-7717 or 720-754-7712. If you'd like to schedule an appointment at Rocky Mountain Hospital for Children, please give us a call at 720-754-1000.