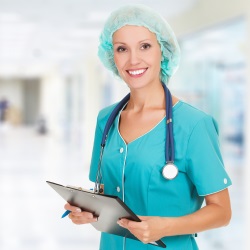 Preparing your adolescent child for a surgical procedure doesn't have to a stressful experience. The physicians and staff at Rocky Mountain Hospital for Children (RMHC) work closely with each patient and their family to make the process of preparing for surgery calm, comfortable and painless.
At RMHC, we take a compassionate approach to patient care. Our dedicated specialists are board-certified and fellowship-trained to provide medical care to young patients, with specially tailored surgical procedures and treatment methods. We provide all the comfort and reassurance adolescents need to approach their surgery with confidence.
Learn more about surgery at RMHC
Relieving the stress of preparing adolescents for surgery
When your adolescent child is preparing for a surgical procedure, it's essential to recognize the typical concerns and reactions of this age group. Adolescents should be active participants in their medical care. When adolescents are included in making decisions regarding their healthcare they are more compliant and cope more effectively. Common fears and concerns may include the following:
Loss of control
Being away from school and friends
Having a part of his or her body damaged or changed in appearance
Pain
Fear of surgery and its risks
Fear of waking up during surgery
Fear of dying during surgery
Fear of the unknown
Fear of what others will think about them being sick or in the hospital
It's important to talk to your adolescent about these fears and help them work through their questions and concerns. Fortunately, there are some simple steps your family can take to prepare physically and mentally for surgery, including the following:
Allow your teen to be part of the decision-making process. Encourage them to make a list of questions to ask the physicians and nurses.
Learn as much as you can about the procedure. This will help you prepare your teenager and might help alleviate some anxiety.
For a teenager, learning and preparing for surgery should start as soon as the decision to have surgery has been made.
Explain procedures or what to expect in different ways without making your teenager feel uncomfortable. Teenagers are often reluctant to admit that they do not understand an explanation.
Discuss their preferences for disclosing information to family and friends. Let them decide if they want visitors in the hospital.
A journal may be a helpful outlet for your teenager to express feelings, concerns, and thoughts about surgery.
Encourage your teenager to bring activities from home to keep busy, such as a tablet, favorite book, music, etc. Also remind teenagers to pack comfortable clothing to wear such as pajamas after surgery.
Be patient and understanding with your teenager. Teens may experience frequent mood swings. There may be times when you teenager is withdrawn and does not want to talk or answer questions.
Give permission for your teenager to show or talk about their emotions. It may be helpful to share that you also have some of the same worries as they do.
Be truthful when answering questions. Teenagers have the right to know what is wrong with their body and what will happen.
Helpful resources for teens and parents
There are many resources families can use to prepare their teenage children for surgery. Some recommended books include:
Coping With A Hospital Stay by Sharon Carter and Judy Monnig
Hospital Smarts by Theodore Tyberg and Kenneth Rothaus
There are also many websites, television programs and other types of media that can help adolescents prepare for surgery. Encourage your teenager to look around for materials that are comforting to them, or ask your RMHC medical staff for recommendations.
Learn more
If you're seeking more information about how to prepare your teenage child for a surgical procedure, please contact your Child Life Specialist at 720-754-7717 or 720-754-7712. If you'd like to schedule an appointment at Rocky Mountain Hospital for Children, please call 720-754-1000.