At Rocky Mountain Hospital for Children (RMHC), we're committed to providing excellent quality care to all families. With the creation of our Mobile Training Center, an RV that is outfitted with simulation manikins, we're pleased to bring cutting edge education directly to you.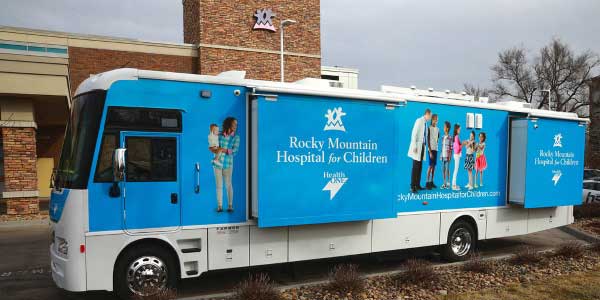 Our Equipment
The Mobile Training Center includes two training aspects — an ambulance and an ER/hospital patient room setting, including a Nursery—and four High Fidelity Simulation Manikins. Ryan, our 16-year-old full body adolescent; Max, our 6-year-old full body child; Hope, our 1-month-old full body newborn and Chloe, our 25-week premature infant, offer a wide-range of clinical functionality to teach the stabilization skills for airway, breathing and circulation management.
While all of our manikins are top-notch, Chloe is really unique. She's a realistically proportioned 25-week preterm infant that can help health care professionals learn proper care and necessitation techniques for preterm infants. In addition, we also can schedule training with our pregnant manikin to simulate difficult deliveries. As the largest Level IV NICU in the region, unparalleled maternal and newborn care is a passion of ours.
Outreach
We'll be traveling throughout the region, in Colorado as well as Wyoming, Nebraska and Kansas. With a primary goal to train clinicians, the Mobile Training Center will be an incomparable resource for healthcare providers in rural areas who don't receive the volume of pediatric patients that our doctors and nurses do in Denver. Now, these healthcare providers will have greater capabilities to practice stabilization of young patients before they are transferred to a tertiary hospital such as Rocky Mountain Hospital for Children. Learn more about our outreach with the Mobile Training Center.
Simulation is a valuable education tool for both medical professionals and the public. Our new Mobile Training Center will allow healthcare providers to work with these high-tech manikins, facilitating training and improve the outcomes of patients, from preemies to adolescents. And while emergencies are inevitable, we're investing in the skills and training of you, our community, to respond whenever a child is in need.