High-Risk Pregnancy Care & Neonatal/Pediatric Specialty Care
Our multi-disciplinary Maternal Fetal Team of specialists is the most experienced in the region. Patients have traveled from a 7 state region for high risk pregnancy care from our Maternal Fetal Team. Our team of experts are world leaders in the treatment of fetal and neonatal interventions.
Fetoscopic Surgery options include:
Fetal Surgery for myelomeningocele for severe spina bifida
Fetoscopic laser photocoagulation for treatment of severe twin-twin transfusion syndrome (TTTS)
Fetoscopic bipolar cord coagulation (BCC)
Fetoscopic radiofrequency ablation (RFA)
Ultrasound-Guided Fetal Interventions, including:
Ultrasound-guided bladder and amniotic shunt placement
Ultrasound-guided intrafetal radiofrequency ablation
Other Fetal Interventions, including:
Ex utero intrapartum treatment (EXIT procedures) for the delivery of babies with airway compromise due to a variety of causes
We understand that being diagnosed with a high-risk pregnancy can be emotionally and physically difficult. From the moment you meet our physicians and patient navigators, you'll experience our dedication to the best possible outcomes for you and your baby.
The fully integrated care for mom and baby has led to P/SL being recognized in the top 5% of hospitals across the nation for Labor and Delivery and OB/GYN services.
Our patient navigators offer personalized care coordination to ensure you have a seamless patient experience. They help coordinate multi-disciplinary consultations and provide individualized patient education and support. And, at the Center for Maternal/Fetal Health, the medical needs of both mom and baby are met in the same place, keeping the family together in our beautiful Mom and Baby Unit.

---
Conditions We Treat
We are here for you. #AmazingTogether
---
High Risk Care for Mom
The board-certified, affiliated physicians at the Center for Maternal Fetal Health have been handling high-risk pregnancies for more than 30 years - longer than anyone in this region. Drs. Jeffrey Hanson, Richard Porreco and Steve Rothenberg founded the Center and are part of a team that has delivered more than 55,000 high-risk babies. Few teams in the country have that kind of expertise.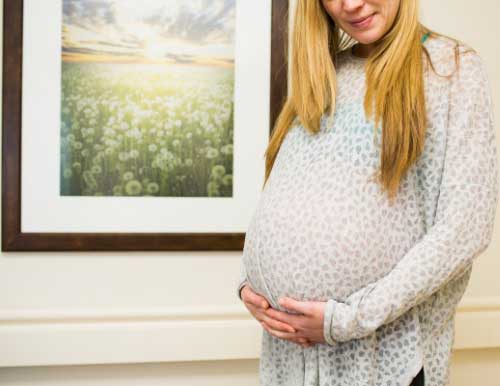 High Risk Care for Baby
Our program offers the highest level of care available in the region for the babies that need the most intensive medical attention and those with congenital defects and conditions. Our 84-bed, Level IV Neonatal Intensive Care Unit (NICU) has a team of compassionate, accomplished support staff and affiliated board-certified neonatal surgeons, pediatric surgeons and specialists who are active in private practice and highly experienced in their fields.
Clinical Nurse Navigators and Genetic Counselor
Getting answers and understanding babies' medical conditions during complex health care situations such as high-risk pregnancy is an emotional experience. The Center for Maternal Fetal Health offers an incredibly dedicated, highly educated, compassionate support team that consists of a highly experienced program coordinator (with medical experience working with high risk pregnancies and fluent in both English and Spanish), a neonatal nurse navigator, a pediatric nurse navigator and a genetic counselor to help guide families during the process. Meet our support team>>