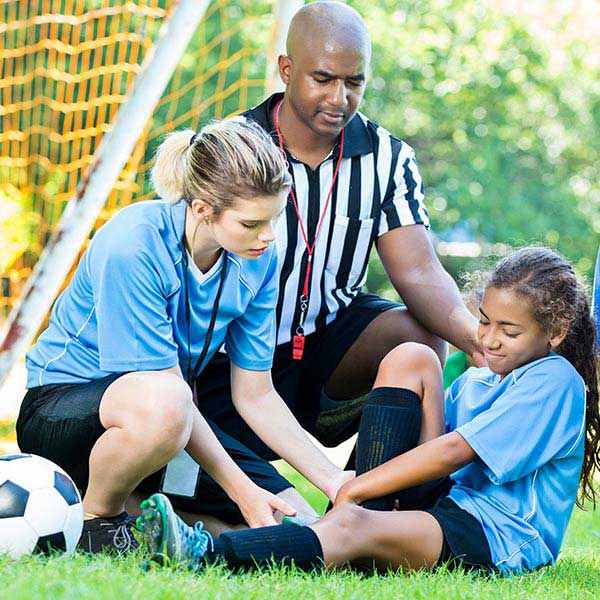 Summer is around the corner! And with that, many sports camps and athletic programs will pick up when school lets out. But many sports and summer outdoor activities also carry the potential for injury. It is important to be in the know of the causes of these injuries and how to prevent them. Below, CareNow Urgent Care shares common Q&A regarding sports injuries.
Common types of sports injuries
Three common types of sports injuries in kids and teens are acute injuries (like bruises, sprains and strains or broken bones), overuse injuries (like little league elbow, shin splints and swimmer's shoulder) and re-injuries (which happen when athletes return to a sport before an injury is healed).
Preventing sports injuries
You can help protect your kids from being injured by following some simple guidelines:
Use proper equipment: It's important for kids to use proper equipment and safety gear that is the correct size and fits well. Ask your child's coach about the appropriate helmets, shoes, mouthguards, athletic supports and padding. Although not a league or school requirement for many sports, consider using protective eyewear, like shatterproof glasses.
Employ adult supervision and commitment to safety: Any team sport or activity that kids participate in should be supervised by qualified adults. The team coach should have training in first aid and CPR, and the coach's philosophy should promote players' well-being over winning. (A coach with a win-at-all-costs attitude may encourage kids to play through injury and may not foster good sportsmanship.) Be sure that the coach enforces playing rules and requires that safety equipment be used at all times.
Prepare properly: Just as you wouldn't send a child who can't swim to a swimming pool, it's important not to send kids to play a sport that they're unprepared to play. Make sure that they know how to play the sport before going out on the field. Kids should be adequately prepared with warm-ups and training sessions before practices and before games. This will help ensure that they have fun and reduce the chances of an injury. They should also drink plenty of fluids and be allowed periods of rest during practices and games.
Treating sports injuries
Treatment of sports injuries depends on the type of injury. The best thing you can do for your young athletes is play it safe. If an injury appears to affect basic functioning in any way — for example, if your child can't bend a finger, is limping or has had a change in consciousness — first aid should be given immediately. A doctor should then see your child.
If the injury seems to be more serious, it's important to take your child to the nearest ER. Regardless of the injury, remember when recovery is complete, your child's technique or training schedule might need to be adjusted to prevent the injury from flaring up again.
PS- if you're in need of a sports or summer camp physical, head to your nearest CareNow Urgent Care to get one today!
CareNow is here to help!
We're open Monday-Saturday 8am-8pm and Sunday 8am-5pm. No appointment is needed. Feel free to walk in or use our Web Check-in® service.
Locations near you:
Greenwood Village
5990 S. University Blvd
Greenwood Village, CO 80121
720-446-5890
Parker
11339 S. Pikes Peak Drive
Parker, CO 80138
720-588-4000
Highlands Ranch
7120 E. County Line Road
Highlands Ranch, CO 80126
720-446-5891

Stapleton
3001 N Havana St
Denver CO 80238
720-458-6825

DU Neighborhood
1405 E Evans Ave
Denver CO 80210
720-449-8050

Aurora
5620 S Parker Rd
Aurora CO 80015
720-446-5893