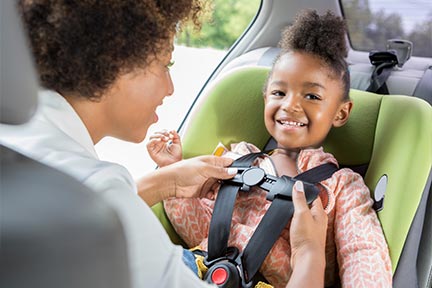 The holiday season can be one of the most wonderful times of the year, filled with family gatherings, festive traditions and delicious food. What many don't know is that in the emergency room (ER), the holiday season is also one of the busiest times of year.

For families with young children, the holiday season can be a time of great joy — but there are also dangers and health hazards parents need to be aware of. Here are some of the most common reasons children are sent to the ER during the holiday season, so that you can be aware of these hazards and prevent them:
Food and/or chemical poisoning
During the holidays, children could potentially experience poisoning in multiple ways. Plants commonly used as holiday decorations — such as mistletoe, holly, poinsettias and Jerusalem cherry plants — are considered potentially poisonous and should be kept out of a child's reach. Symptoms of plant poisoning include rashes, nausea, vomiting and diarrhea. If your kid has eaten any part of a plant, call your doctor right away or contact the National Poison Center at 1-800-222-1222.

Both food and alcohol poisoning are common health risks for children during the holidays. Kids might accidentally drink an alcoholic beverage, or older children might drink without their parents knowledge. In children, even a small amount of alcohol can be dangerous. Food poisoning is another health hazard during the holidays. Practice food safety when preparing holiday meals and make sure to wash all dishes and utensils that come into contact with raw meat, poultry, fish and raw eggs.

Certain holiday decorations can be dangerous for children. Some "bubble lights" contain methylene chloride, which can be poisonous if a kid drinks the fluid from the bulb. Snow sprays could also be hazardous if used improperly.

Choking and swallowing hazards
There are many holiday-related decorations and objects that are potential choking hazards for small children, including tree ornaments, light bulbs, plastic icicles, tinsel and small toys. When it comes to toys, the general rule is: if it's small enough to fit into the mouth of a baby or toddler, it's too small to play with.

Kids can also choke on some holiday foods, like peanuts or popcorn. Health professionals recommend not giving these types of treats to kids under age four. Other choking hazards include the needles from Christmas trees, evergreen garland or wreaths, and ornament hangers.

When decorating your home, keep young children in mind. Place anything potentially hazardous away from a kid's reach and baby-proof your home the same way you would do year-round.
Fire
The holiday season could increase the risk of a fire in your home. Some tips to prevent fires during this time of year:
Keep your tree in a sturdy stand to make sure that it doesn't tip over. Also check that the tree isn't near a heat source, like electrical outlets, radiators and portable space heaters. Only buy artificial trees that are labeled "fire-retardant."


Don't use real candles on a tree. If the needles are dry, the tree could easily catch fire. Keep lit candles away from window sills and mantles. In addition, make sure to turn off all holiday lights, both indoor and outdoor, before going to bed each night.


Electrical circuits overloaded with lights, decorations and other accessories could start a fire. Use a power strip and don't connect too many cords with the same outlet.


If you have a fireplace, get an inspection every year before you start your first fire of the winter season. Have the fireplace cleaned by a chimney professional and use a screen when burning a fire. Never burn anything other than wood — such as paper or pine boughs — in your fireplace.


Practice fire safety during the holiday season. Make sure all smoke detectors are working in your home prior to putting up lights or other holiday decorations.
Other winter or holiday-related accidents
There are other accidents that kids end up in the ER for during the holidays or winter months, such as:
Cooking accidents — Kids can get burned, scalded or injured while helping make the big holiday meal. To prevent accidents, watch children while they cook or bake. Don't let kids run around the kitchen during holiday parties or cook unattended.


Check your tree for breakable ornaments — Delicate ornaments can fall off the tree and break, leading to accidents involving glass or choking. Keep breakable ornaments or decorations far away from a child's reach.


Car accidents — Car accidents involving children tend to increase during the holidays. Make sure all kids are buckled up during car rides and adults should never drive after drinking alcohol. Drivers should be extra cautious on Christmas Eve and New Year's Eve, when there are higher incidences of impaired drivers on the road.


Sledding — Supervise children when sledding and stay away from dangerous areas, like steep, crowded or icy hills.
The pediatric emergency room at Rocky Mountain Hospital for Children provides the greater Denver metro area with exceptional, immediate care. Our ER is staffed with board certified pediatricians specially trained in emergency treatment. We provide full-service care, with treatment for minor conditions to life-threatening injuries.