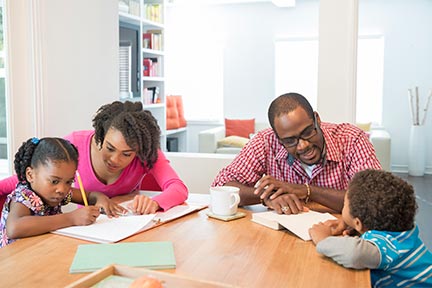 As back-to-school season begins, you might have a child in grade school who has to do homework for the first time this year. While many kids groan at the word "homework," the purpose of homework is to extend learning beyond the classroom and help children practice important study skills.

For kids, there are many benefits of homework. Grade-school kids learn how to read and follow directions independently, manage and budget their time when working on projects or assignments, and complete work neatly and to the best of their ability. Homework also helps kids develop a sense of responsibility, feel good about accomplishing something, and have a strong work ethic.

Parents can play an instrumental role in encouraging grade-school children to learn good homework and study habits, which will in turn help them succeed in middle school, high school, college and beyond.

Here are some tips for parents on how to help your grade-school kid with their homework, without actually doing their homework for them:
Create a designated homework station in your home
Productive study time starts with having a place to do homework. Whether it's the dining room table, a spot in the kitchen or your home office, make sure your kid's workspace is well-lit, comfortable, stocked with school supplies, quiet and free from distractions.

Make the homework area a place where there's no TV, phone or disturbances from other family members. If your child needs to use a computer to do homework, install a software that filters inappropriate material and blocks certain websites that kids might waste time on (like Facebook). Older kids might want to do homework in their bedroom, but be sure to check in from time to time to keep them on task.
Establish a routine and instill organizational skills
Set a regular time and place each day for homework, which sends the message to kids that homework is a top priority. A key component of doing homework is creating an effective strategy. Some kids might want to tackle the harder assignments right away, while others might need to get started with the easier tasks first. Your child's homework strategy should take into account their workload, how they study best and the unique challenges and strengths they have as a student.

Grade school is a great time to help kids develop organizational skills, which will serve them well as they continue their education. Teach your kid how to use a planner for assignments and have them use different folders for each class or subject.
Make learning a fun activity
For grade-school kids, homework doesn't have to be a chore. As a parent, remember that you're helping your child learn problem-solving skills and accomplish an assignment on their own. Allow kids to take a break when they finish a big task, so that they come back refreshed and energized. Remember that, as a parent, one of your roles is to instill a love of learning in your child.

One way to make doing homework more fun is to apply what your kid is learning in class to the "real world." Let kids research a subject they're interested in, use their creativity when doing certain assignments and explore different ways to solve a homework problem.
Be supportive and offer guidance when needed
In grade school, it can be tempting for parents to help their kid complete an assignment or do part of their homework for them. During homework time, a parent's role is to offer guidance and support. Parents can do this by assisting kids in finding the answer to a question, help interpret assignment instructions and review homework once it's finished.

When a kid gets frustrated or upset when doing their homework, resist the urge to step in and finish the assignment. Kids need to learn how to overcome these homework hurdles and work through assignments independently.
Utilize the school's resources and aid from teachers
Parents with children in grade school might discover that they can't always help their kid with their homework. It's easy to forget how to do long division or fourth grade algebra. In this case, reach out to your child's teacher for additional support and resources. Many grade school teachers have their own website or web page, which has detailed information on each homework assignment or links to helpful resources for parents.

Make sure to keep an open dialogue with your child's teacher during the school year. Attend parent-teacher conferences and keep yourself in the loop about upcoming quizzes, tests or exams. Good study skills aren't always stressed in grade school, but parents can play an instrumental part in helping their child develop solid study habits early on. Your child might even benefit from a tutor or after-school program where kids get help with their homework.
Take a proactive approach to your child's academic success
Don't wait until you get your child's report card to start addressing any problems they might be having at school. If a child's grades start to slip, it could just be that they need to learn better homework habits and study skills.

In some instances, poor grades and difficulty with homework might indicate a learning disability or ADHD. In the classroom, children might also have trouble learning if they have hearing or vision problems. If you're concerned about your child's progress, talk to their teacher or the school counselor. There could be something else going on that is making it harder for your child to do well in school, outside of study habits and completing homework on time.

In grade school, it's important to lay the foundation for good homework habits and study skills. Parents can do this by leading by example, encouraging these habits in their child, praising them for a job well done and inspiring a love of learning at home and outside of school.