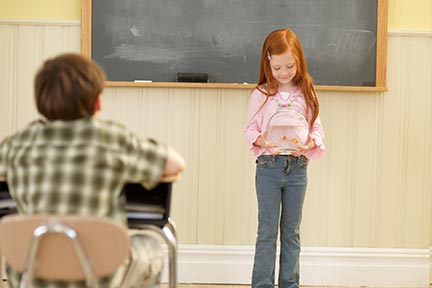 For many young children, feeling shy at times is pretty normal. However, the beginning of a new school year can be a tough time for children with a more reserved or shy personality. While a child can overcome shyness, sometimes they need a little encouraging to socialize with their peers.

If your child is holding back from school activities or not making friends because of shyness, there are steps parents can take to help their kid feel more comfortable in social situations. Here are some tips to help your child overcome shyness:
Practice conversation skills — One easy way to help your kid deal with being shy is to have them "practice" a conversation with other kids. Sit down with your child and ask him/her to imagine a scenario in which other kids are playing, but they feel too nervous to join in. Talk to your child about what they might say and have them imagine this conversation going well.


Start with a compliment — Starting a conversation with a compliment helps break the ice. Your kid could compliment another classmate on their outfit/style or an accomplishment they just completed, like doing well on a big test. These types of compliments help your kid form friendships based on common interests and shared activities.


Make saying "hello" a regular habit — Simply saying "hi" can go a long way in starting conversations and making new friends at school. If your child is nervous about talking to kids at school or doesn't know what to say, remind them that just saying "hello" is often enough to start a conversation.


Get your kid involved in after-school activities — Let your child choose an activity they like, which will make it easier for them to find friends they have things in common with. For shy children, small groups or one-on-one activities might make it easier for them to talk to other kids and overcome shyness.


Be patient — As a parent, it's easy to forget that some things that now come naturally to us, like striking up a conversation with a stranger, can feel scary or nerve-wracking for shy children. Keep encouraging your kid to branch out, but also give them some time to become more social. Also be aware of your family dynamics. If you have one child in the family who's a social butterfly and another who's more shy, you might need to take a more proactive approach to help the more reserved child overcome shyness.
By nudging them out of their comfort zone at an early age, it's possible for your kid to go from a "shy guy" or gal to the confident kid you know they can be.