The survival rates for children diagnosed with cancer is "one of the success stories of modern medicine," says Dr. John van Doorninck, pediatric oncologist at Rocky Mountain Hospital for Children and Rocky Mountain Pediatric Hematology/Oncology in Denver. According to the American Cancer Society, more than 80 percent of children with cancer now survive at least five years or more.
Despite the advances in diagnosing and treating pediatric cancers, Dr. van Doorninck believes there is still more work to be done. Dr. van Doorninck has always been passionate about caring for children, choosing to make pediatric oncology his focus early on in his medical career.
"The [medical professionals] that were involved with childhood cancers were the ones who inspired me," says Dr. van Doorninck. "They were in it for the right reasons. I saw them as collegial, as unified in purpose, as intelligent people that were very caring. These were qualities I wanted to cultivate in myself, and I wanted to surround myself with those people."
Increasing access to care for child cancer patients beyond Colorado
In collaboration with Rocky Mountain Hospital for Children (RMHC), Dr. van Doorninck cares for children diagnosed with cancer throughout the Rocky Mountain region. He also makes regular visits to Wyoming, where children diagnosed with cancer have limited or scarce access to a regional practicing pediatric oncologist like Dr. van Doorninck.
"Children diagnosed with cancer in Wyoming need to leave the state for treatment," says Dr. van Doorninck. "For families--in addition to the emotional turmoil of having a child diagnosed with a potentially fatal illness--traveling to receive treatment is an immense challenge. With that in mind, we started an outreach clinic [in Wyoming]. In that clinic, I am able to see patients both in consultation and also do follow-up care for patients with childhood cancer and blood diseases. This eliminated the need for extra travel for many appointments, making it easier for children to receive care."
In addition to treating child patients with cancer in Wyoming, Dr. van Doorninck also advocates for cancer-related health issues on the state level. He is co-chair of the Wyoming Cancer Control Coalition and co-authored the 2016-2020 Wyoming Cancer Control Plan. He serves as a volunteer physician for Camp Courage Wyoming, the only pediatric cancer camp in the state. Dr. van Doorninck says RMHC has enthusiastically encouraged these outreach efforts, while also providing a more patient-focused approach to treating childhood cancers.
"One of the things I've enjoyed about RMHC is the communal atmosphere," says Dr. van Doorninck. "Here I have a lot more direct contact with patients, and they have greater access to me."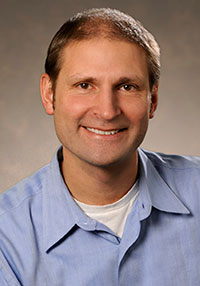 'Once you bear witness, you bear responsibility'
While patient care has always been the primary focus of his medical practice, Dr. van Doorninck also feels that physicians have an obligation to serve their communities. This can be done at the local, state, national and international levels.
"As doctors, we're trained to treat [patients] one person at a time," Dr. van Doorninck says. "But I noticed early in my career that there were some physicians expanding that role, trying to work for the betterment of [our] health on a populations-based level. I came to admire physicians who made that leap."
Dr. van Doorninck is heavily involved in World Child Cancer, an international non-profit dedicated to improving pediatric oncology care in low- and middle-income countries worldwide. He is co-chair of the organization's Global Programmes Committee and received the non-profit's Volunteer in Action Award in 2016. Dr. van Doorninck says World Child Cancer seeks to address the "preventable survival gap," in which children with cancer born under different socio-economic circumstances would have better survival rates.
"One of the greatest predictors of whether or not a child with cancer will live or die is what country they were born in," says Dr. van Doorninck. "In some circumstances, the majority of children diagnosed with cancer are not even believed to present to a hospital, dying in a local village or community without ever having made it to the point of getting diagnosed."
As part of his work with World Child Cancer, Dr. van Doorninck recently made a trip with his family to Southeast Asia to visit a children's hospital in Yangon, Myanmar. Formerly Burma, the country has a population of more than 53 million. Access to quality health services is very limited and the country's healthcare system has consistently been ranked one of the worst in the world by multiple health organizations.
"Once you bear witness, you bear responsibility," Dr. van Doorninck says. "The problem set faced by the team at Yangon Children's Hospital is staggering. They are tasked with addressing complex and life-threatening problems with very limited resources. Yet they approach the task with rigor, enthusiasm, pride and a high standard of ethics. It's nothing short of inspiring."
Making a local — and global — impact on treating children with cancer
While Dr. van Doorninck is moved and motivated by the work of others in the medical field, he exemplifies what it means to be a true public health servant, whether it be for one of the pediatric-oncology patients in his Denver-area practice, the children he is working to help in Wyoming or the world at large. Dr. van Doorninck says it all comes back to the children living with cancer--and their parents.
"As a young person, you're used to living for yourself and chasing your own ambitions," Dr. van Doorninck says. "When I met the parents [of children with cancer], I came to understand what it meant to live for something larger than yourself...I think of this work as if I am paying it forward and creating brighter futures. A 2-year-old child that could be cured from leukemia could create 70 to 80 years of beautiful memories and impact in our world."
Rocky Mountain Hospital for Children is committed to ensuring that all children receive the care and treatment they need. Dr. van Doorninck's outreach activities in Wyoming and with World Child Cancer directly link RMHC to national and global health policies for childhood cancers, giving RMHC a seat at the table with prominent health organizations, including the Centers for Disease Control and Prevention (CDC) and World Health Organization (WHO). The work of Dr. van Doorninck is another example of the hospital's dedication to raising the bar in the prevention, diagnosis and treatment of childhood cancers in the U.S. and abroad.
"It's important to stay connected in the world and have our finger on the pulse," Dr. van Doorninck says. "The support I've received from RMHC is laudable for its impact. We've made a real-time impact on the health of individual patients, as well as populations-based health."