 Shashanah Woodward was putting sunscreen on her 5-year-old son at the end of August when she felt a bump on his face. Shashanah normally used a stick sunscreen, but ran out that day and had to use a lotion. She could not see the bump she could only feel it. After a trip to the pediatrician, they ended up seeing an ENT who wanted to do surgery right away to remove it. After testing, Brenden was diagnosed with rhabdomyosarcoma and referred to Rocky Mountain Pediatric Hematology Oncology.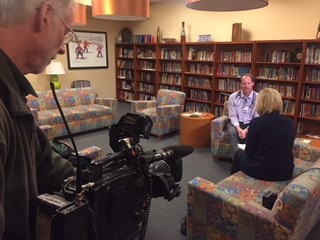 Brenden's pediatric oncologist, Dr. Brad Ball spoke with CBS4's Kathy Walsh about this type of cancer and the importance of catching it early. Brenden is just finishing 20 straight days of radiation and has several rounds of chemo ahead of him. Dr. Balls says the total treatment will take about 46 weeks and his prognosis is good.
Knowing that Brenden loves trains, nurses and other staff, led by Nicole Miller from interventional radiology, decorated a wagon to look like a train. This has become Brenden's transportation to get him from radiology to the outpatient center. Nicole even has a "train repair kit" to keep it in tiptop shape.
News Related Content