High-Risk Pregnancy Care & Neonatal/Pediatric Specialty Care
No hospital in the region has more experience supporting high-risk pregnancies than the Center for Maternal Fetal Health, where you and your baby will always be given coordinated, specialized care.
If complications occur with mom or baby, the new family doesn't have to be separated in different hospitals. At the Center for Maternal Fetal Health, the medical needs of both mom and baby are met at the same place, keeping the family together.
We recognize the importance of caring for all members of the family with a team of specialists. Our continuum of care offers one geographic location for care, as well as a coordinated team of experts who collaborate to offer patients seamless and continuous care.
High Risk Care for Mom
The board-certified, affiliated physicians at the Center for Maternal Fetal Health have been handling high-risk pregnancies for more than 30 years - longer than anyone in this region. Drs. Jeffrey Hanson, Richard Porreco and Steve Rothenberg founded the Center and are part of a team that has delivered more than 55,000 high-risk babies. Few teams in the country have that kind of expertise.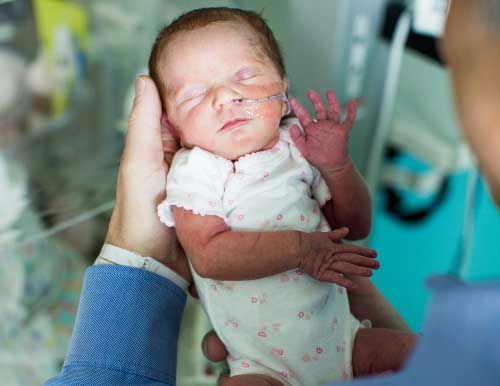 High Risk Care for Baby
Our program offers the highest level of care available in the region for the babies that need the most intensive medical attention and those with congenital defects and conditions. Our 84-bed, Level IV Neonatal Intensive Care Unit (NICU) has a team of compassionate, accomplished support staff and affiliated board-certified neonatal surgeons, pediatric surgeons and specialists who are active in private practice and highly experienced in their fields.
Clinical Nurse Navigators and Genetic Counselor
Getting answers and understanding babies' medical conditions during complex health care situations such as high-risk pregnancy is an emotional experience. The Center for Maternal Fetal Health offers an incredibly dedicated, highly educated, compassionate support team that consists of a highly experienced program coordinator (with medical experience working with high risk pregnancies and fluent in both English and Spanish), a neonatal nurse navigator, a pediatric nurse navigator and a genetic counselor to help guide families during the process. Meet our support team>>